Events at Woodland Park Zoo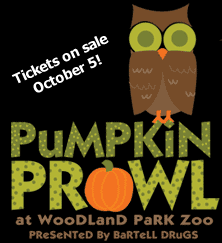 oCToBeR 23, 24 and 25, 2009

5:00 - 8:00pm

TICKeT iNFoRMaTioN
Tickets on sale at all Bartell Drugs locations and at the zoo starting Monday, October 5th.
$9 adults
$7 children 17 and under
Free for children 2 and under
Purchase discount tickets exclusively at any Bartells and save $2!
This is an after-hours fundraiser so regular zoo membership privileges do not apply.
For more information call us at 206.548.2500 or go to our Frequently Asked Questions.
WE ENCOURAGE COSTUMES AND TRICK-OR-TREAT BAGS FROM HOME!
It's the ultimate in recycling!

Each night will feature amazing live entertainment. A complete list coming soon!

Concessions will be available, featuring a wide selection of items including hot dogs, hamburgers, pizza, popcorn, chili, chowder, ice cream, smoothies, hot chocolate and cider, espresso and more.
Pumpkin Prowl presented by Bartell Drugs



Bartell's is back again for Pumpkin Prowl this year, and they will be onsite at the event near the Beech Grove, handing out an abundance of goodies for kids (and parents) to trick-or-treat for. They're a must-see, so make sure you go by and pick up your treats!

Other highlights of this year's Pumpkin Prowl include:

Stop by and visit the creepy-crawlies that live in our Bug World building. Right outside of Bug World, you can take your picture in our bug photo display, pick up a treat from Carter Subaru, and check out the Carter Volkswagen Bug that has been caught in a huge spider's web!

Once again, the Family Farm meadows and ponds will be transformed into huge pumpkin patches and floating displays, filled with decorations and places to trick-or-treat!

On these three nights of Pumpkin Prowl, Zoomazium transforms into "Boomazium!" Features of this haunted house include an interactive talking tree that distributes treats, flying ghosts, and tons of spooky decorations.